All of the components which need to access external services are required to add their authentication information into our system for smooth integration. This is also the case with SugarCRM component.
For the demonstration purposes, we took a 7-day trial account with SugarCRM and all the following explanations are based on that account which is normally offered by SugarCRM for testing purposes. When adding the account you are presented with an interface like this which you would need to fill-in in order to authenticate and connect your SugarCRM to elastic.io environment: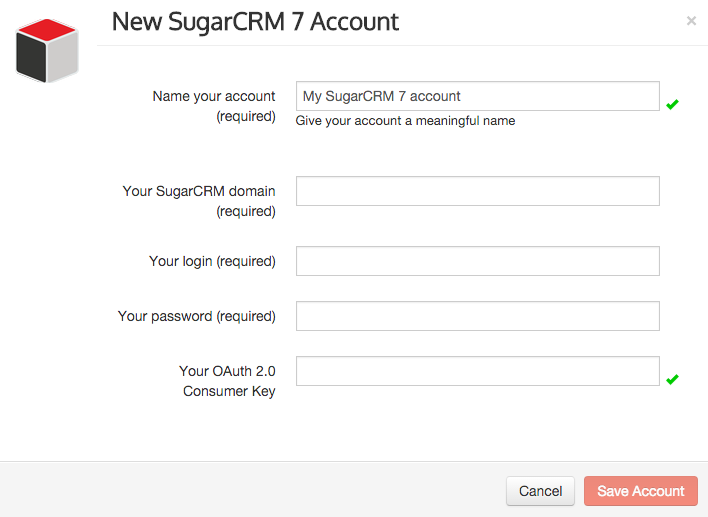 Name your account (required) - Please give your account a meaningful and memorable name in order to recognise it during the integration process. This is up-to-you but the field must not be empty.
Your SugarCRM domain (required) - This is the domain name of your SugarCRM installation. Please see further for explanation if you are not sure what to input here.
Your login (required) - Pretty self-explanatory but check below the explanation if you can't find the necessary information in your SugarCRM.
Your password (required) - the password for the login name that you are using for the field above.
Your OAuth 2.0 Consumer Key - not a required field but can be added and used for an additional security.
Sugar CRM Domain
The domain name is easy to find. Just look into your browser window address bar and take the part of the domain only. For example, let us look at our test trial SugarCRM:

So do not take https://, just the domain and the extension like it is indicated in the picture.
Your login and Password
The login name which you are going to use to access your SugarCRM data. In the default installation, you can either take the admin or one other user that you have defined to use. If you are just going to use the admin and the corresponding password then you might just skip this part. However, if you want to use some other user instead the information can be found by following this steps:
1

Go to your Admin panel accessible from the top right corner of your menu:

2

Select the User Management section to see all the users:

3

Here you will see the list of users. In our default test-trial version there is only one user name given sally which we will take it. You are welcome to create here as many users as you require.

4

Click on little edit icon to edit the details and set the password for this particular user.

5

When the data become editable, select the Password tab and give a new password following the requirements which are usually given here as well.
Your OAuth 2.0 Consumer Key
This field is not a required field but can be filled for additional security purposes. To located your Consumer Key first open the Admin panel as we did for finding the user information but here locate the System section and find the link to OAuth key management.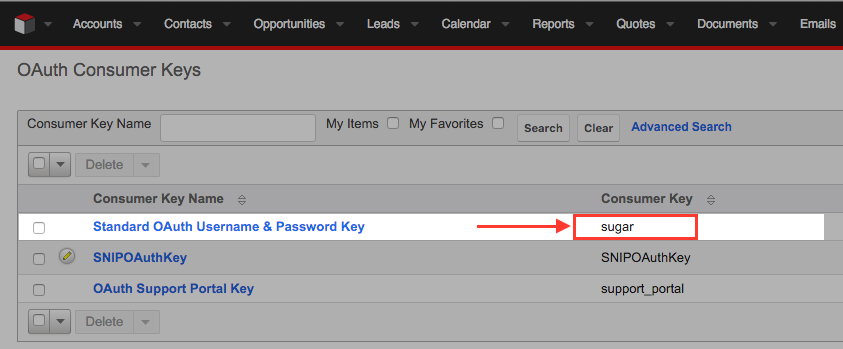 In our current example we have the Consumer Key called sugar. This key can be different so the best way is to check your current installation of SugarCRM.
Putting things together
After obtaining all the information necessary we are ready to fill in all the necessary information together into the authentication window: