If during the work on elastic.io platform you require a technical assistance or your integration is giving Errors that you are unable to understand, you are always welcome to submit a support ticket. To submit a support ticket you can do one of these 3 actions:
Send a direct email to support@elastic.io which will create a support ticket in our helpdesk.
Submit a ticket directly from our Support portal. It will also create a ticket in our helpdesk.
Submit a ticket from within the platform by opening the right-side icon-menu widget by clicking on icon. More information is given further down.
Please note: To interact with the support system you would need to register here separately by giving your exact e-mail address that you have used or are intended to use for submitting the support tickets. Your credentials from elastic.io platform are not automatically transfered here.
Creating support ticket within the platform
In order to create and submit a support ticket while working inside the platform you can use our right-side icon-menu by clicking on icon. It will open a slider like this: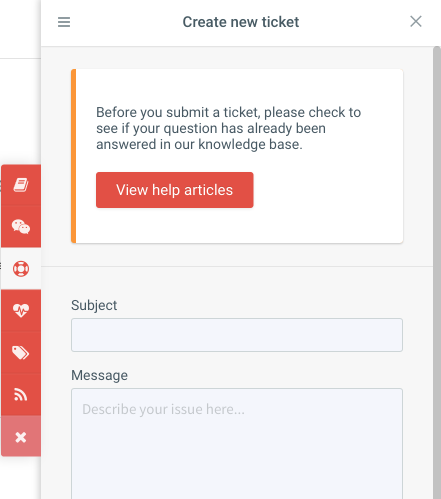 When used the first time there will be only this form which you can use to submit your ticket by explaining the nature of your concerns. Please submit as much relevant information as possible in order to expedite the process. You can, otherwise browse our documentation for the possible solution to your encountered problem from right here.
After using the ticketing system once the same screen will show you your currently open and closed tickets like this: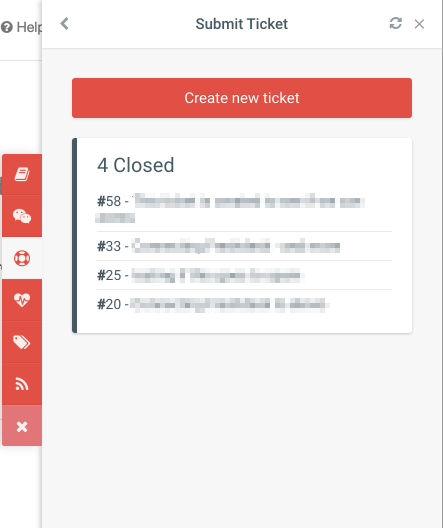 From here one can see the status of all your submitted tickets. Click on any ticket name to see the details of that current ticket. All the conversation between you and our support is also presented here for your convenience.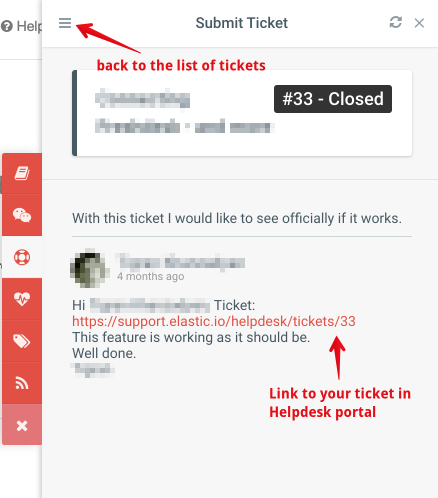 The link to ticket in our helpdesk can be seen here, however, this link is not publicly accessible. It is only accessible to you when you log-in into our support portal.