Our multi-tenant integration platform is an ideal place to run, scale and monitor integration processes. It is fully API-driven, so everything what you can do using the integration designer you can also do using our Rest API directly.
This document describes the use case for embedding our integration platform into your app. For a detailed explanation of specific API call structures we will refer to our Rest API Documentation.
Is it right for you?
There are several use cases where embedding can be a solution. For example if:
Your need to push data from your application multiple similar systems, e.g. creating leads or tasks in CRM systems like Salesforce, SugarCRM, etc.
You need to import data from multiple similar systems, e.g. importing orders from e-commerce shops like Magento, Shopify, etc.
You have complex integration packages implemented on top of the platform. You want to industrialise these and deliver automatically to large number of customers.
Use case for creating leads
Let's imagine we are developing an e-commerce storefront platform (à la Shopify) and we would like to offer Salesforce/SugarCRM/DynamicsCRM/etc. integration as a feature. Once activated, every time a new customer orders something in the store of our users, a new Lead with the new customer's contact data is created in the Salesforce / SugarCRM / DynamicsCRM.
So your App integration page would look something like this: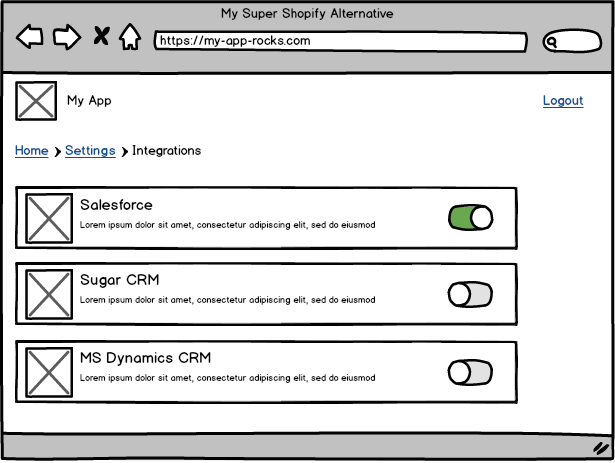 What is required to start?
To present this in a style of a cookbook, we could talk about the necessary ingredients that you would need to make this happen:
Your app where you want to present an integration to your users
Account on the platform
Access to the platform APIs with partner permissions
Access to the test systems to test your integrations
Clear understanding of what systems you want to start with
1 hour of your time
Beside this, a REST client like Postman or simple curl would make your life easier.
Next comes the preparation