Microsoft Dynamics CRM is a customer relationship management business solution from Microsoft. It drives sales productivity and marketing effectiveness through social insights, business intelligence, and campaign management in the cloud, on-premises, or with a hybrid combination.
Before you can use our component some additional groundwork needs to be done in your Microsoft Dynamics CRM account.
Giving access to your MS Dynamics CRM instance
In order to authorise access то data in your MS Dynamcis CRM instance you would need to complete two part process:
Part1: Create a new app in Microsoft AD
1

Choose active directory

Choose your active directory as it is shown below:

2

Verify CRM access and create new developing app

Next verify it has access to CRM and create a new developing app:

To add a new app you would need to scroll-down the page to see this button:

3

Choose web API application

Then you will be shown a step where you can choose web api application similar to the picture below. Please note the name elasticio-test is arbitrary but you would need to remember the name you have given here for the later stage:

4

Give SIGN-ON and APP ID URLs

In the next step you must write SIGN-ON and APP ID URLs of your app to be able to connect it to our servers:

Afterwards you are taken to the application dashboard where you can review the details of your application:

Please note that the CLIENT ID on the picture above will be different from yours. Please treat it with great care.

5

Review the details and add

And finally, before adding your application you can review all the details:
Part2: Authorise the platform to access MS Dynamics CRM
After creating the app in your Microsoft Dynamics CRM account you can then connect it using the platform with other connectors to create an integration flow. Before you app can be accessed from our system it must be authenticated.
When you select the Microsoft Dynamics CRM as one of your components in the integration flow design stage you must fill-in all the required fields: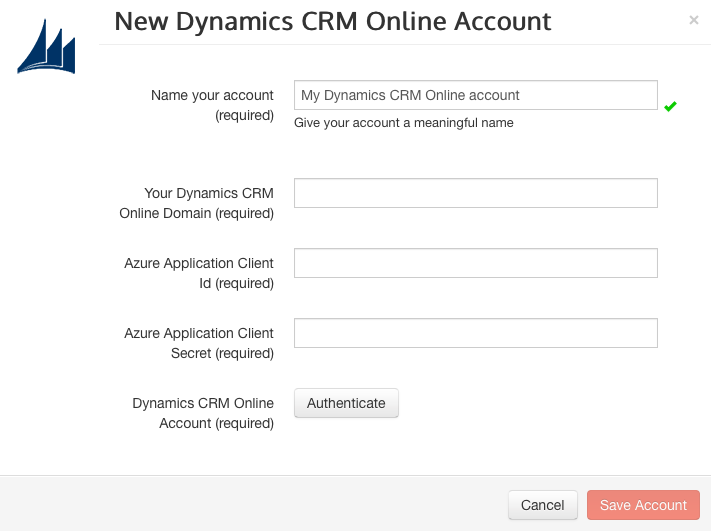 Name your account (required) - Give some memorable name that you can recognise afterwards.
Your Dynamics CRM Online Domain (required) - This is https://your-company-account.crm4.dynamics.com
Azure Application Client Id (required) - This is your client key which is unique to you.
Azure Application Client Secret (required) - This is your client secret otherwise the password
Dynamics CRM Online Account (required) - This is to authenticate your main Microsoft Dynamics CRM account.